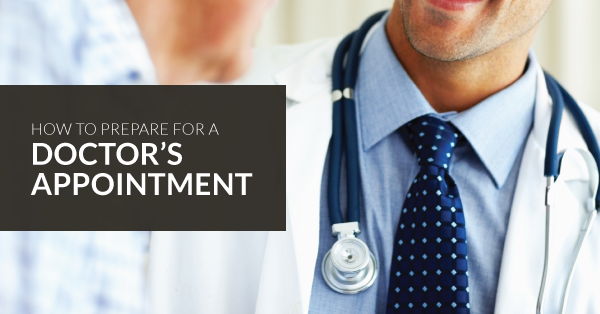 How to Prepare for a Doctor's Appointment
When you're visiting your doctor, it's important to use every minute of your appointment.
In order to receive the best healthcare possible, you should strive to be an active part of your healthcare team.
The Agency for Healthcare Research and Quality says, "Patients who ask questions and take an active role are happier with their care and see more improvement in their health than patients who do not."
Here are some helpful tips to make sure you get the most out of your next visit to the doctor.
Before the appointment
Your doctor's ability to diagnose and treat symptoms depends almost entirely on communication, according to an article on the University of Minnesota Center for Spirituality and Healing's website.
Communicating while setting up appointments is crucial, the article says. Clearly explain the reason you want an appointment when talking with a receptionist, so you can be allotted the proper amount of time with your physician.
To help your physician understand your medical history, bring a copy of your healthcare records, including results of any previous tests or procedures.
It is also important to know about your family health history, such as your parent's health conditions. This can help your physician learn about any genetic conditions you may have.
Be sure to also prepare questions to ask your doctor. Try writing them down in your phone's notes application or on a piece of paper to bring to your appointment.
"Asking questions about your diagnoses, treatments, and medicines can improve the quality, safety and effectiveness of your health care," the Agency for Healthcare Research and Quality says.
When you arrive at your appointment, you'll need to be prepared to tell your story. The center offers these questions to help you walk through the issues you'd like to address during your appointment:
What symptoms am I experiencing?
When did they begin?
What makes the condition better or worse?
What are my questions or concerns?
Seek a friend or family member to accompany you to the doctor's office, if possible. This person can help you understand and remember answers to your questions.
The agency recommends bringing all of your medications with you to the appointment. This helps give your doctor a more complete picture of your health.
During the appointment
During the appointment, channel all of your preparation into a successful meeting with your doctor.
Make sure to prioritize the questions that are most important to you, just in case time runs short. You can even tell the nurse or receptionist that you have questions so your doctor knows you plan to ask them.
Listening to your doctor's answers is equally important to asking questions. Don't be afraid to take notes or ask your doctor to repeat his or her answers.
If your doctor recommends treatment, a test, or surgery, ask these questions suggested by the agency to understand your next course of action:
Will I need a test? What is the test for? What will the results tell me?
Why do I need surgery? Are there other ways to treat my condition? How often do you perform this surgery?
In addition, the Center for Spirituality and Healing includes a list of questions to ask if medication is being prescribed.
If you properly prepare, you will get the most out of your time with your doctor.
https://thehealthcareresortplano.com/wp-content/uploads/2015/03/ensign-doc-appt.png
314
600
admin
https://thehealthcareresortplano.com/wp-content/uploads/2016/05/plano-logo5b.png
admin
2015-03-19 21:51:11
2015-03-19 21:59:44
How to Prepare for a Doctor's Appointment